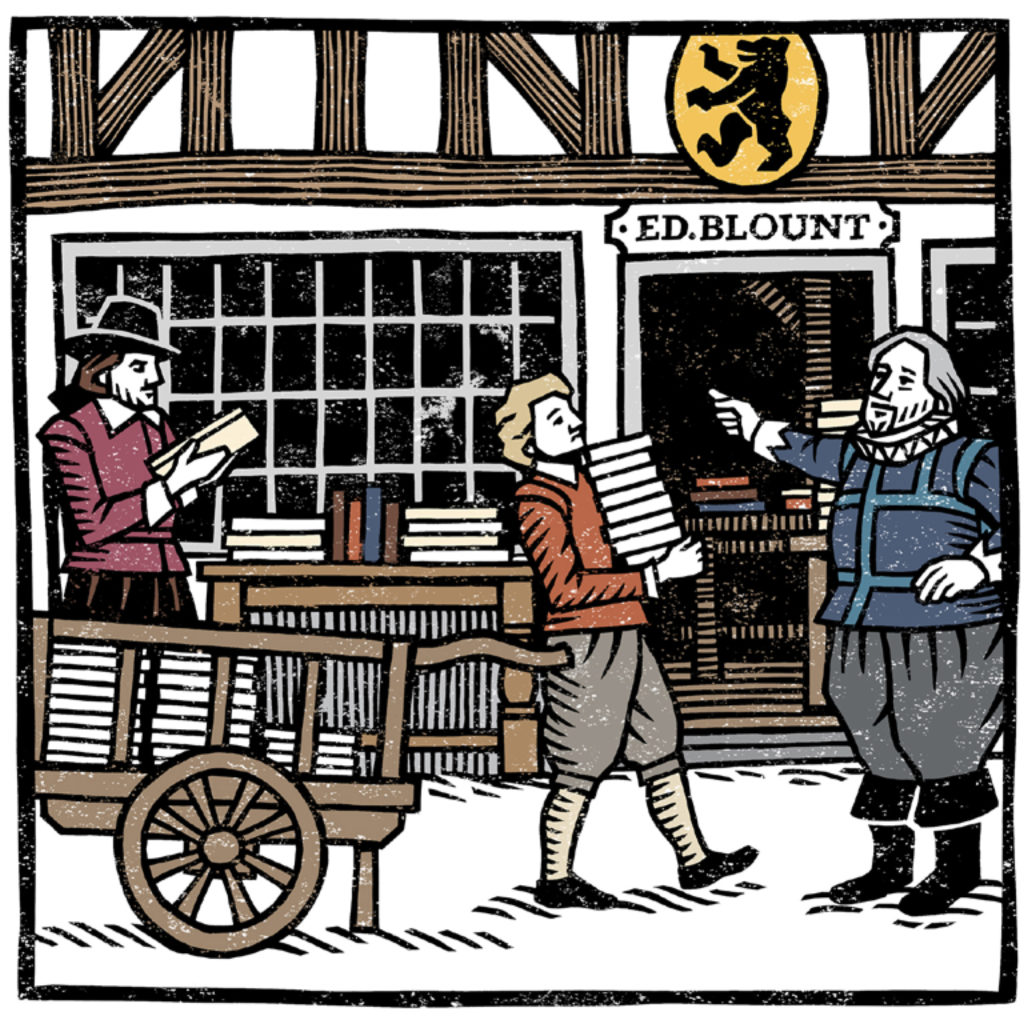 'But, whatever you do, buy!'
Mr. William Shakespeare's Comedies, Histories, & Tragedies went on sale in November 1623, seven years after the death of its author.
An expensive book, the First Folio was never going to be a best-seller, but it was successful enough to be reprinted, securing Shakespeare's legacy.
Once printing was finished, single copies of each sheet were gathered together in page order, and sewn together. Probably about 700 to 750 copies of the First Folio were made, finally going on sale in November 1623. Some gatherings were bound with a cover – made from the skin of a calf, sheep or goat – but most were left unbound. Each customer could choose how they wanted to cover their own copy.
As principal publisher, Edward Blount had Folios sent to his own bookshop. Like most such shops in London, Blount's – at the sign of the Black Bear – was in the churchyard to the north of St Paul's Cathedral. Co-publisher William Aspley's shop was nearby. The publishers sold most copies to wholesalers, who then sold them on to smaller booksellers. The price was marked up at each stage. The Folio probably cost the publishers 8½ shillings per copy, and was sold unbound for 15 shillings. Bound copies cost up to 20 shillings. 
The First Folio cost about the same as two months' wages for a skilled worker. It took time to sell out, but was popular enough that a second edition was completed within a decade. By the time the Second Folio appeared in 1632, Heminge, Condell, the Jaggards, and Blount had died. 
The memory of Shakespeare and the survival of his plays were preserved for future generations.  235 copies of the First Folio are known to survive, but most are missing some of their original pages. Only about 56 copies are complete, containing all 454 leaves – 908 pages.
The right to print in England was controlled by the Stationer's Company in London. Here, on 8th November 1623, Isaac Jaggard and Edward Blount entered the First Folio into the Stationer's Register as their 'copy', listing individual plays that had not previously been registered.